Empty Data Error
When your Lead Ads form does not hold any lead information, you will probably see an error as shown below -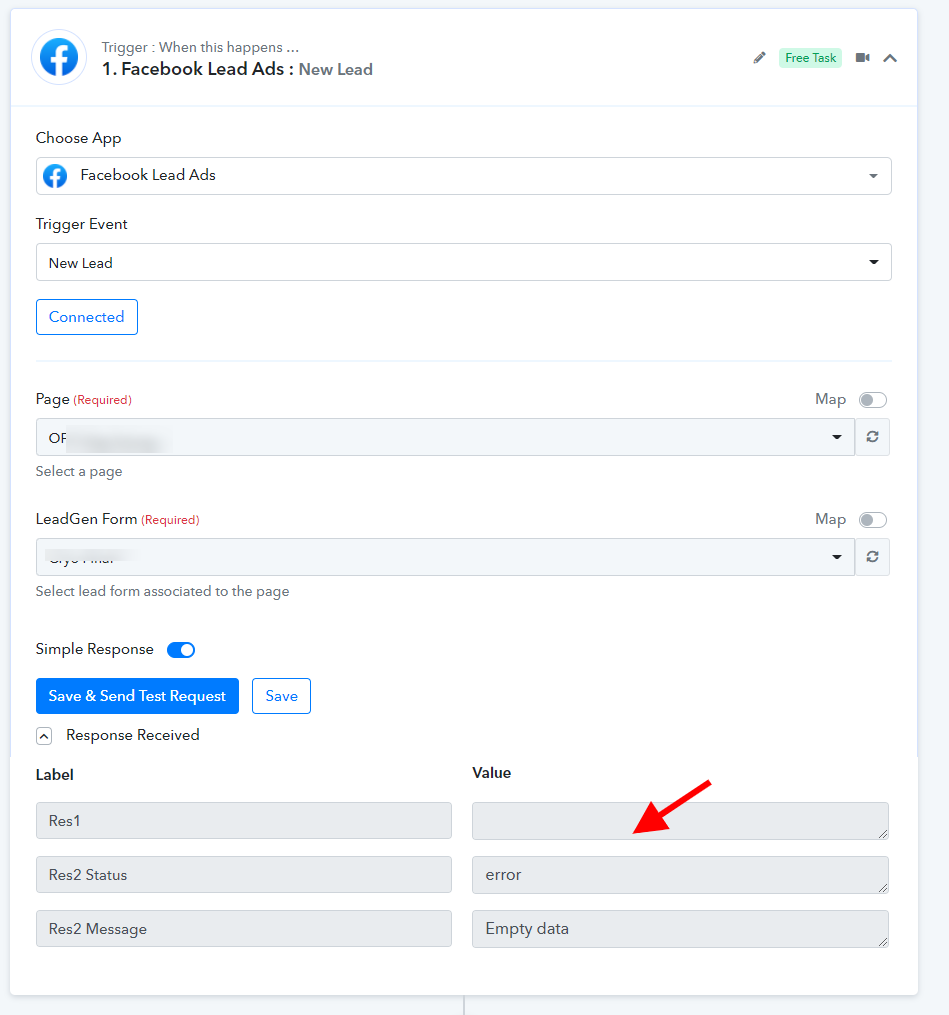 How to fix it?
If your Lead Ads form has no lead information, then you can submit dummy lead information using the Facebook test tool. Simply submit the lead form and then click on the "Save & Send Test Request" button -
https://developers.facebook.com/tools/lead-ads-testing
Then you should be able to see the proper response as shown below -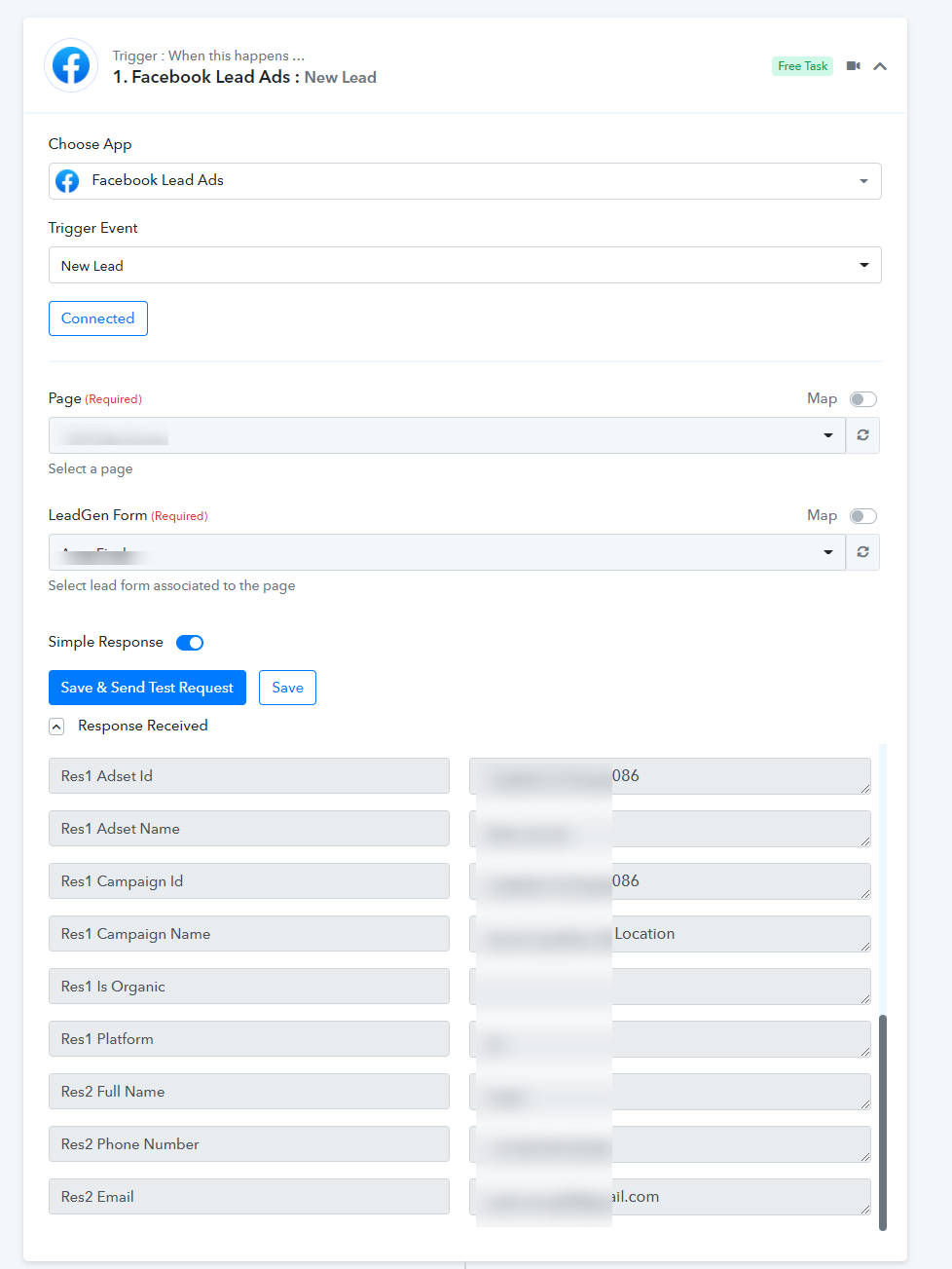 Don't see your Page listed?
Access your account's settings to confirm the connected account has correct 'Manage Page' permissions and then re-connect your account. You directly check whether you provided all permission to Pabbly Connect for all Facebook pages from here -
https://www.facebook.com/settings?tab=business_tools&section=active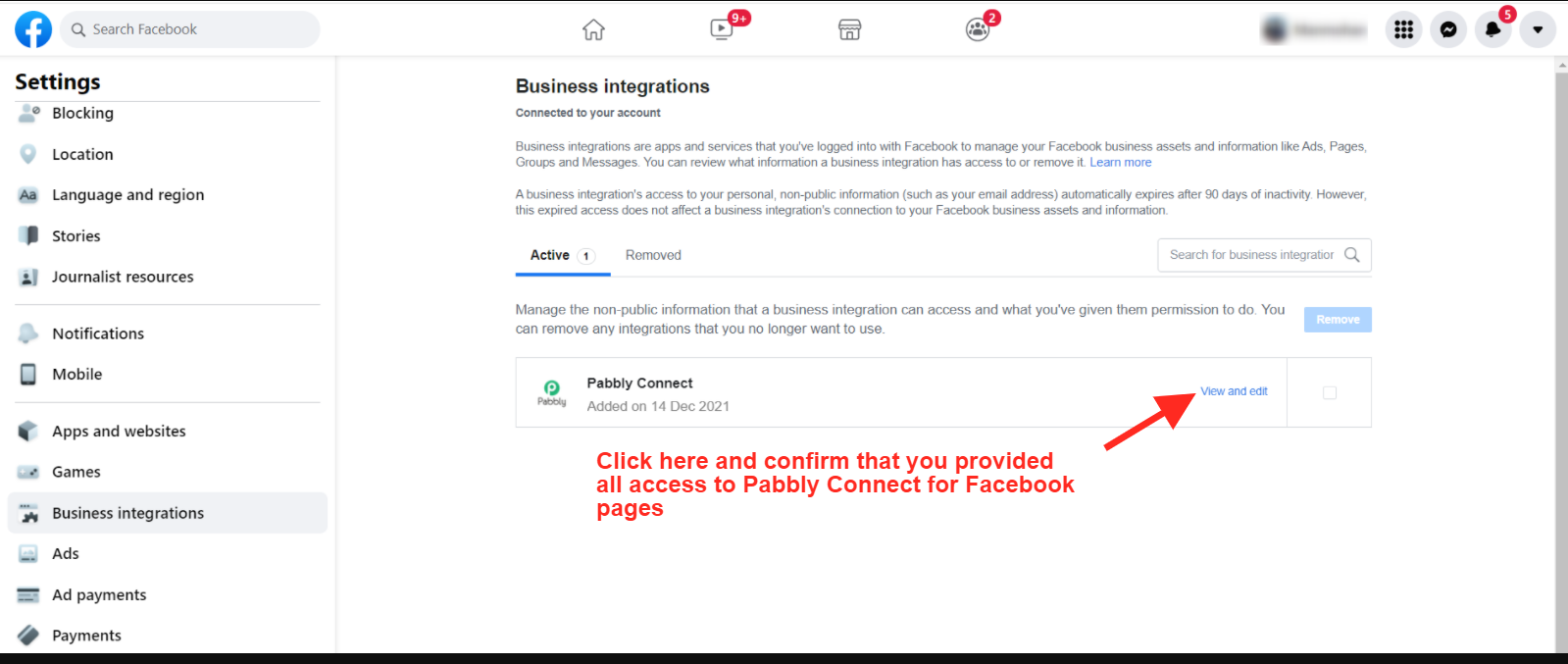 Use Res2 Field for Lead Information
Always use Res2 field for mapping the lead information in the next action step.
Do check if you have provided proper access to fetch the lead details as mentioned here -
https://www.facebook.com/business/help/540596413257598?id=735435806665862
Error Code: 103 - CRM access has been revoked from Lead Access Manager.
You may encounter this issue while configuring the "
New Lead (Instant)
" trigger and when you submit the test lead from the
Facebook Lead Ads testing tool
.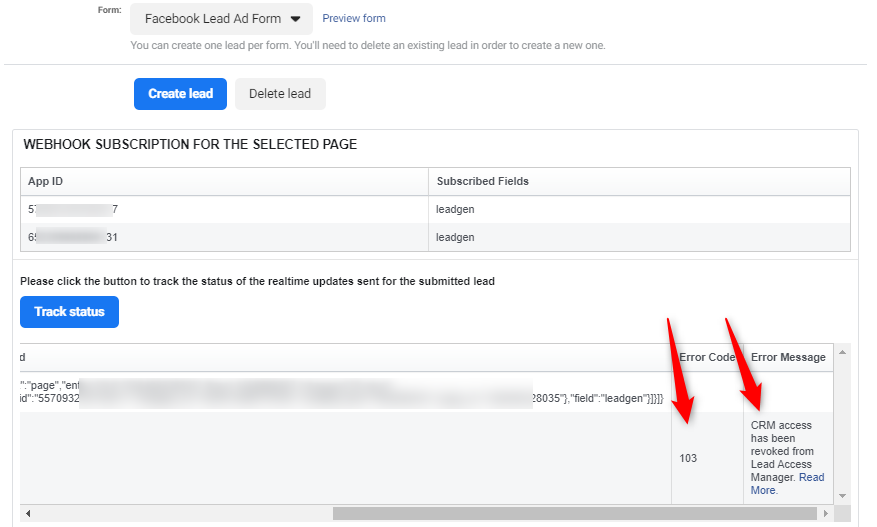 Causes:
Your Facebook Lead Ads account does not have CRM access for the Pabbly Connect app. An account administrator may have removed or revoked CRM access.
How to fix it
Leads Access Manager
gives Business Manager admins the flexibility to customise which people, CRM systems or partners can download leads. The tool allows you to give any person with a role on your Facebook Page access to download the leads you capture through that Page.
The leads access permission for CRMs controls whether Facebook sends a notification that there is a new lead to that CRM. A CRM system
must be connected to Facebook
before it in this list. If you assign leads access to a CRM, it will receive leads updates from Facebook. The Page admin who granted permissions must continue to have access permission or the CRM will fail to fetch data.
To assign leads access permissions to CRM systems:
Go to Business Suite.
Click the drop-down in the top left-hand corner and choose your business account.
Click Settings in the bottom left-hand corner.
Click More business settings.
Click Integrations in the left menu, then click Leads access.
Click Assign CRMs. You'll see Pabbly Connect in the list of CRM systems that have been integrated with your Facebook Page.






Tick the circle next to the Pabbly Connect to assign access and then click Assign. This way Pabbly Connect now have access to your leads information.






Once you have successfully added the Pabbly Connect app under CRM section of the lead access, you will now be able to receive leads instantly into your Pabbly Connect workflow.
Last edited by a moderator: