How To Process A Refund?​
Pabbly Subscription Billing have made the Refund process easier for its user, with Pabbly Subscription Billing you can refund directly from your account to your customer. You don't need to go to your Payment Gateway account and then initiate the refund process from there. Follow these simple steps to initiate the refund from your Pabbly subscription Billing account.
Login to your Pabbly Subscription Billing account and click on "Sales" from your Dashboard. Select the Customer you want to initiate the Refund for, refer the below screenshot:
So, here after hovering on the customer details, to whom you want to refund. Click on the three dots shown in the screenshot and select 'Refund'. After clicking on refund the below page will be displayed: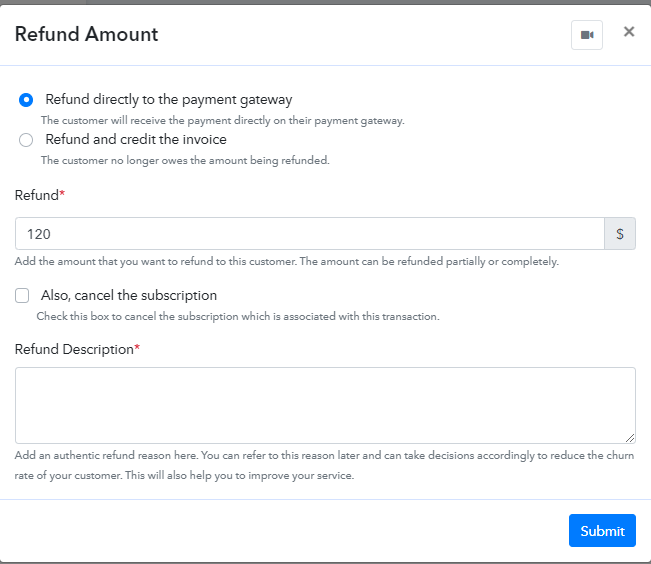 For 'Refund' you will get two options: For both the options
Refund directly to the payment gateway: The customer will receive the payment directly in their payment gateway.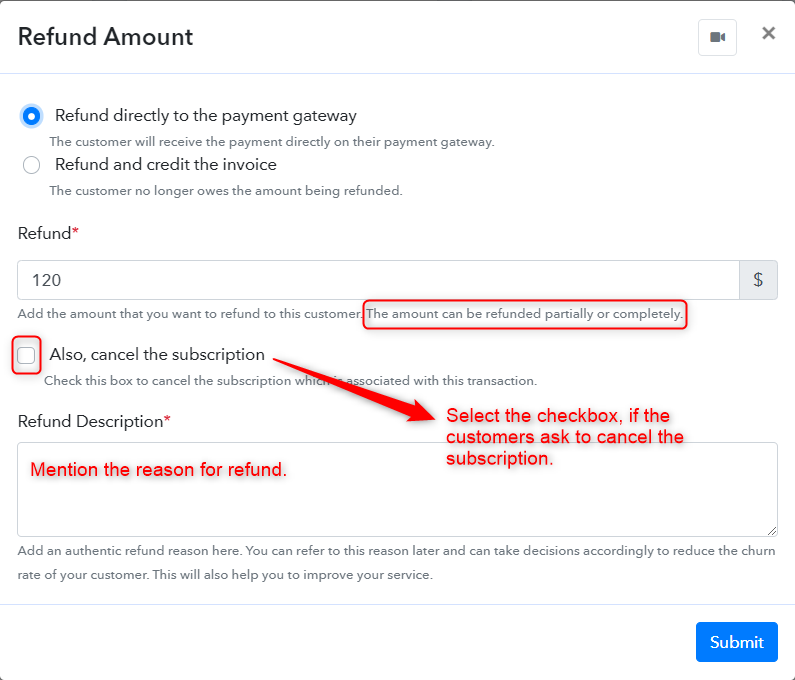 Refund and credit the invoice: The customer's outstanding balance is updated through this refund option. This method allows for either a full or partial refund, depending on the reason for the refund request. For example, if Customer A purchases a recurring subscription for $30 per month on July 1st and encounters service issues, resulting in a refund request, this option can be used. In this scenario, you can choose to refund the customer either in full or partially. If you refund $15, this amount will be applied as a 'Credit' toward the subscription. Consequently, on August 1st, Customer A will only need to pay $15, as the refund credit will offset half of the billed amount.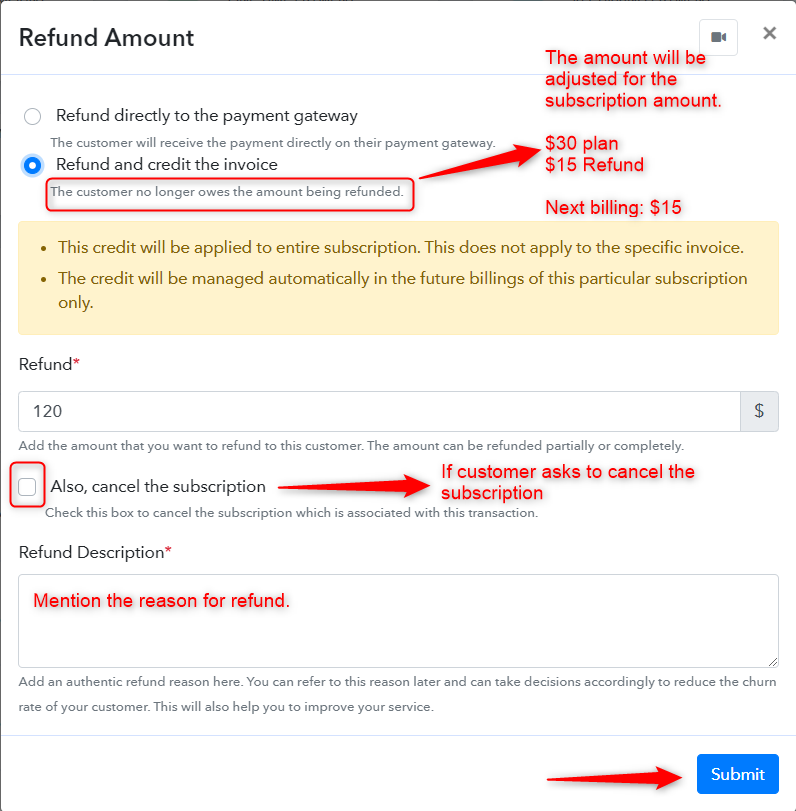 Please note that you can only use the above two options to refund only when the customer has paid you via Stripe and PayPal payment gateway.
If the customer used any other payment method like Authorize.net or Razorpay then you will need to issue the refund directly from the gateway account. After issuing the refund you can record it in your Pabbly Subscriptions account.
Now we will see, how to 'Record Refund' in the Pabbly Subscription Billing account when you refunded directly from the gateway account.

How to 'Record Refund?
To record a refund, navigate to the Sales section within your Pabbly Subscription Billing account, and then choose the specific customer for whom you wish to document the refund.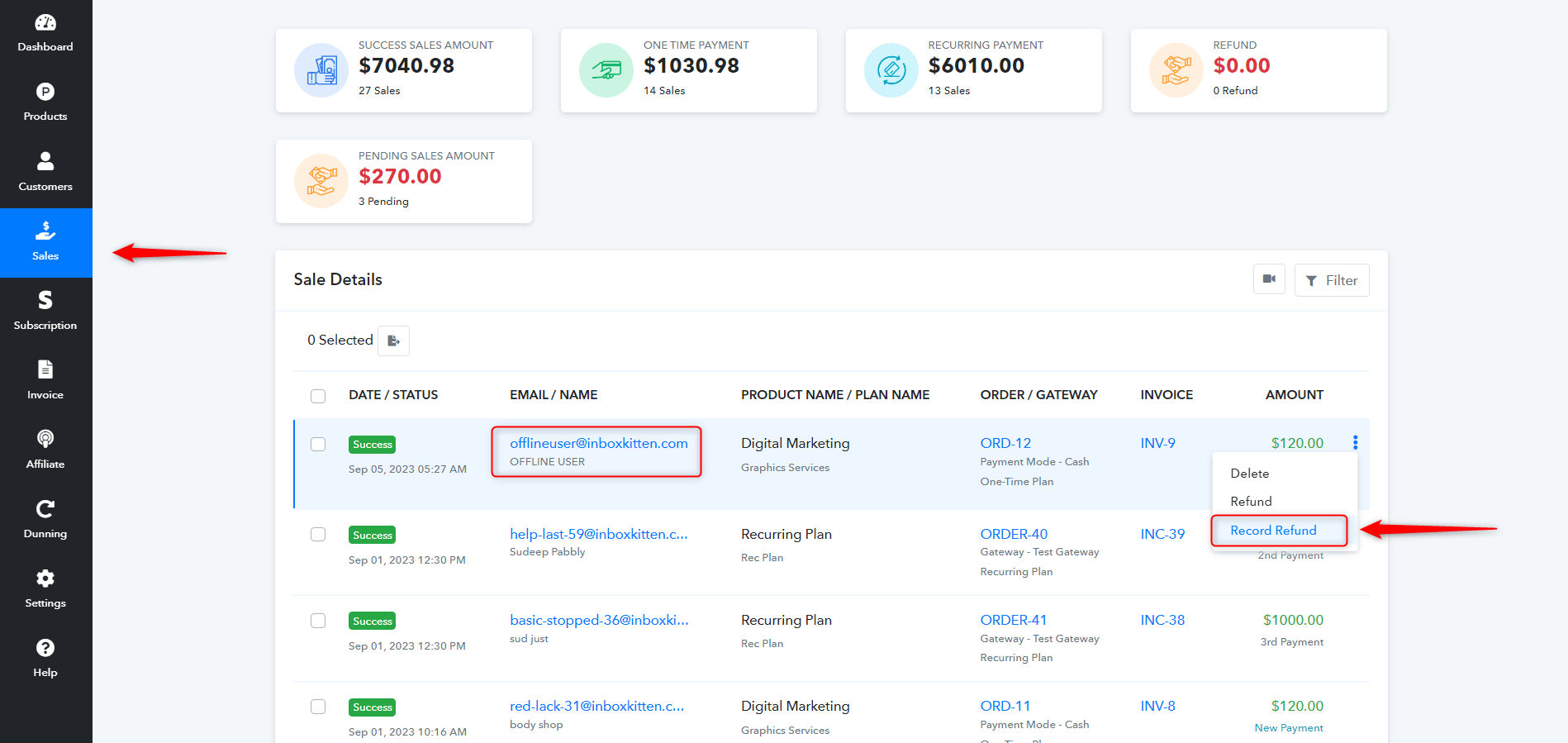 So, here once you hover over the customer details for the individual you want to refund, click on the three dots as illustrated in the screenshot. From the options that appear, select 'Record Refund.' Upon clicking 'Record Refund,' the following page will be presented.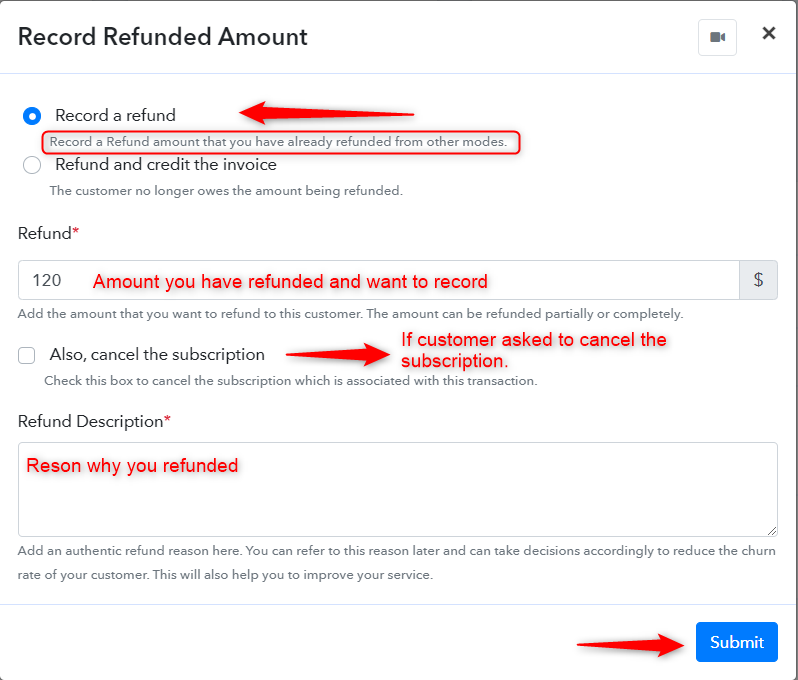 ---