Xero is cloud-based online accounting software that helps small businesses to Keep track of your bank account balances, unpaid and overdue invoices, profit and loss, bills to pay, and more.
Pabbly Connect offers an native integration with Xero, so that you can easily integrate with different applications associated with CRM, Sales, Marketing, Productivity, or any apps. You can more about
Xero integrations here
.
Table of Content
Getting Started
How to setup?
Inline help
Frequently Asked Questions
Video Tutorials
Getting Started with Xero integration.
With Xero integration, you can create a range of automation across your favorite applications with Pabbly Connect. Some of the popular integration are -
For every new Shopify order, create an invoice in Xero.
For every new Stripe payment, create an invoice in Xero.
For every new contact in Salesforce, create a contact in Xero.
For every updated contact in Salesforce, Update a contact in Xero.
For every new product in WooCommerce, create an item in Xero.
For every new purchase order in Shopify, create a new purchase order in Xero.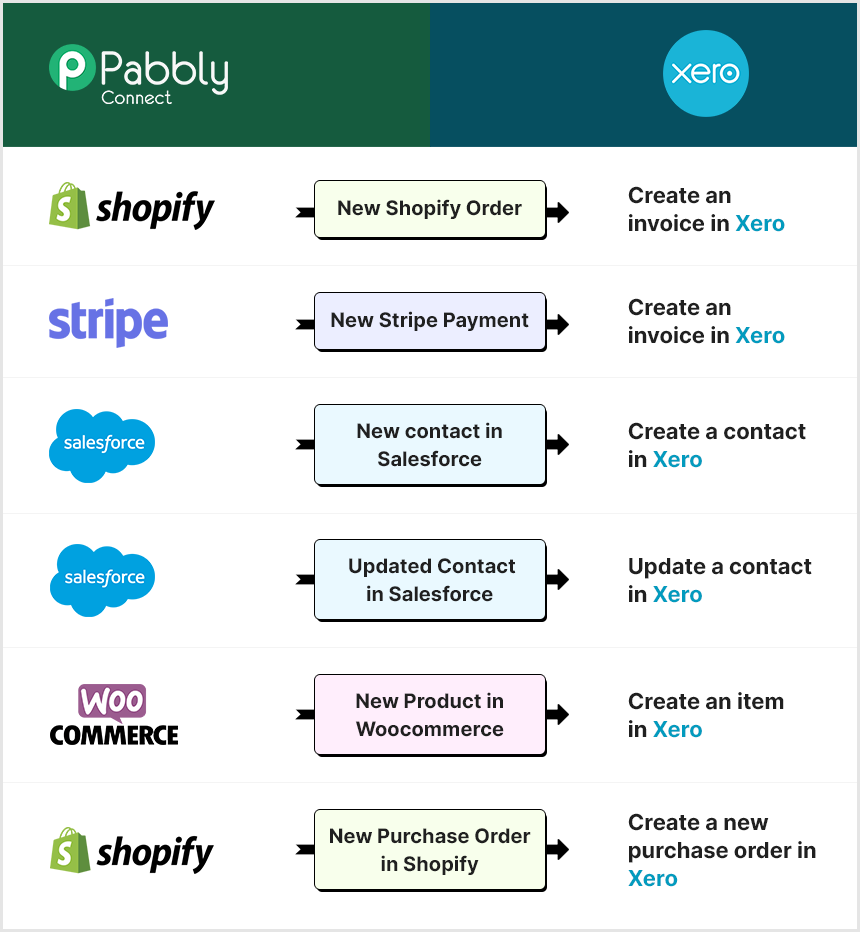 How to Setup Xero Integration​
When trying to create an automation that includes Xero, you need to follow a few easy and simple steps, listed below:
Step 1 -
Sign up for Pabbly Connect.
Step 2 -
Create a Workflow
Step 3 -
Select Xero application as shown below:
Step 4 -
Select the Xero actions from the dropdown.
Step 5 -
Authorize the app to make a new Xero connection.
Inline Help
You will get a help text for beneath each field with ease while creating your workflows. This will help you to easily map all the data needed for execution in correct format. Refer to the below screenshot which clearly shows the help texts -
Frequently Asked Questions (FAQs)
- How do I disconnect from Xero?
There are two methods to disconnect Xero
1. Go to Manage Connections & then disconnect the Pabbly Connect app.
2. Select the existing connection of Xero & click on three vertical dots and select the delete option to delete the connection.
2. When and how does data sync occur? Is it manual, automatic, on login, or in real-time? Are there any settings related to synchronizing?
Whenever new data comes from a trigger or webhook in Pabbly Connect, then in the next action step we map the relevant data from the previous trigger step. Synchronizing of data occurs in real-time during automation and you will not be required to setup the workflow everytime.
Video Tutorials
You will get the help of various video tutorials on different use-cases and app integrations, that will guide you step-by-step while creating workflows.
Create Xero invoice from New Shopify orders:
Add Woocommerce orders to create Xero invoices:
Auto creates Xero invoice for every Stripe user:
Create Xero invoice for new Pipedrive deals:
Last edited by a moderator: